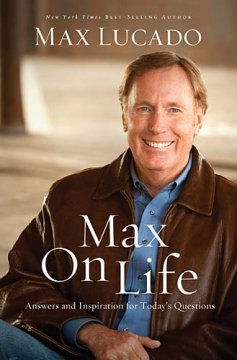 I think I've been intending to read a Max Lucado book for about 10 years now.  I finally decided to read one of his books after I saw him speak at the World Vision Artist Retreat this past January.  Max comes across as an incredibly genuine and kind guy.  I picked up this book, 'Max On Life', and another recent offering, 'Out Live Your Life'.
Max On Life is a book of 172 questions that Max says he gets on a consistent basis.  All the questions have something to do with faith and Christianity and Max offers answers to each of these questions.
I have to say I wasn't a big fan of this book.  Perhaps I'm not the primary audience Max is trying to reach, but I felt like a lot of the responses and answers to these questions were kind of sugary sweet and somewhat expected from the Evangelical Christian perspective.  It's not that Max didn't respond with truth in his answers, even though there were a few that I personally didn't fully agree with, I just felt like I've heard these things said a hundred times in sermon after sermon.
I'm sure there will be some readers who will really engage with Max's writing.  I could envision someone connecting to this book who is newer to the Christian faith and needing to find some clarity as they're wrestling through the complexities where humanity and faith converge.