[1 of 4] I wrote a few posts several years ago before I started my blog…remember MySpace?  There are a few I felt were worth bringing over to the blog, so here you go.
[Originally posted January 27, 2008]
For 11 years I have been picking up my mail from Jim at Chico Christian Center/A & C Postal Center.  This little family owned and operated business deals in bibles, books, Christian music and trinkets, Western Union and mailing services. It's been convenient to have our mail delivered here so that when we're on the road, someone is always there to collect our mail and receive shipments.  When we're home, we usually stop by to collect mail and packages on most business days.
Today, I went to Jim's memorial celebration.  I've cried a lot today, and I remembered that I'm not very good at funerals.  I didn't really know Jim all that well.  We shared, mostly, just the quick, casual, hello or some small talk as I waited to sign for a FedEx or UPS delivery.  But over the course of time, I saw things, I recognized things, I came to respect this quiet, thoughtful, kind man…and I grew used to him being there.  I realized this week that there aren't many people (besides my wife and kids) that I see most every day.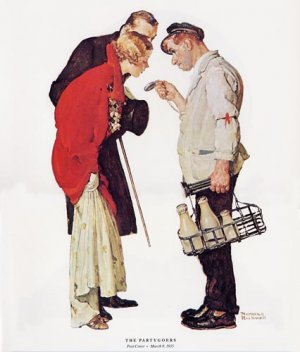 I imagine that this must have been what it was like for people in Norman Rockwell paintings, their relationships with the uniformed Milk Man, or the Mail Man.  I assume that in those 'simpler times', those 'seemingly perfect times', that people always waved to each other, smiled, and appreciated one another more than I probably do with the people coming in and out of my life.
Jim's trademark was this amazingly large, mostly gray, beard.  His was the kind of beard that had taken determined work to create.  I figure he didn't just grow this thing, he had cultivated it for many years.  My kids always seemed to be tentative with him at first, mostly because I think they were waiting for The Beard to do something, because it appeared to have a great deal of personality.  But Jim was a very paced guy with kind eyes, who spoke softly and with a hint of knowing in his tone.  He always did his best to remember my kids' names, and would give them preference over me, making them feel important and noticed.  I loved this.  I think shockwaves went through our small community a couple years back when Jim shaved The Beard.  Probably something you would have overheard being discussed at coffee shops or even in a City Council meeting.  As hesitant as my kids had been when The Beard was around, they were even more unnerved by it's absence.  It took several months before we began to see Jim as himself again, instead of the guy without The Beard.