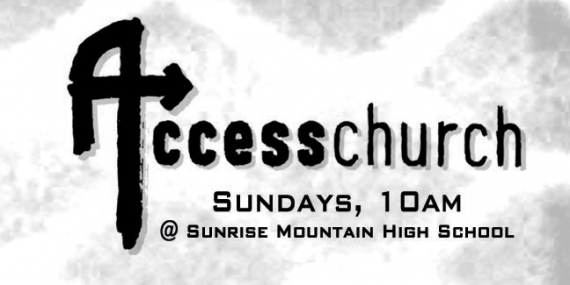 I got a call recently from my friends at Access Church in Peoria, AZ. Â They've decided to let each staff member take some time off this Summer to refresh and see what's happening in other churches. Â As their worship guy is taking his time out, I get to come in and lead for a few weeks.
Access Church has been around for about 2 years now. Â The original church planting team is still intact and they are working diligently to build the community there. Â Each weekend they load in and out of Sunrise Mountain High School to hold services. Â It takes a dedicated and hard working team of volunteers to pull this off. Â I was encouraged to see so many smiling volunteers out working hard on a Sunday morning to serve this ministry.
I led the Access Church Worship Band and they did a great job. Â I got the sets to the team early in the week so we were able to just set-up and do a quick run-thru before service started. Â The band had a great 'can do' spirit and were a lot of fun to work with.
The Set List:
Glory To God Forever ::: Fee
Everlasting God ::: Lincoln Brewster
Forever Reign ::: One Sonic Society
The Stand ::: Hillsong United
I'm still loving Forever Reign. Â It was a new song to this church and they jumped right in.
Have you served in a church plant? Â Helped out with a portable church?
Leave A Comment Below…