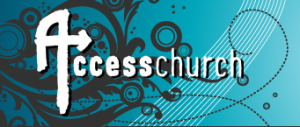 Not only was I scheduled to lead worship for Access Church in Peoria, AZ this weekend, it was moving weekend for Team Allen. Â We're downsizing a bit and renting a smaller place to save money and lower our overhead. Â So, being the genius I am, I scheduled moving day for Saturday, gig Sunday morning and clean-up and finish move out on Sunday afternoon. Â Brilliant…okay, not so much!
Needless to say we were completely spent come Sunday morning, but there isn't much that is more energizing than showing up to a crew of volunteers cheerfully serving and setting up a portable church. Â I've been around hundreds of portable church set-ups and this one was right up there at the top for the positive energy brimming as people rallied together. Â It was inspiring.
Access Church isn't even a year old, but they are a worshipping and singing church. Â Pam and I did an acoustic/unplugged set and people sang out during the entire set. Â Particularly moving during the service was a presentation of around 50 backpacks to a local elementary school to help out the kids of families that aren't able to afford school supplies. Â The Vice-Principal was visibly moved as children from the church poured forward to present these backpacks full of supplies. Â We were very encouraged to see a local church really serving their local community in such a tangible way. Â Way to go you guys!!!
Here is the set:
Awesome Is The Lord Most High (Jon Abel)
Mighty To Save (Hillsong)
Jesus Paid It All (Kristian Stanfill)
How Great Is Our God (Chris Tomlin)
Vision of Hope (Andy Allen)
We are always excited to talk about our work with World Vision and see kids get sponsored. Â Thank you to everyone who sponsored a child this week.
Now…off to unpack…
Andy