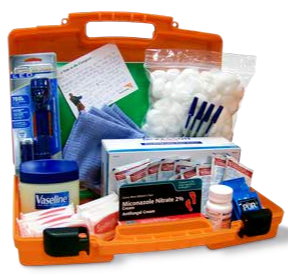 When I was in Africa, I met a group of incredibly special people…they are called Caregivers. Â The Caregivers are volunteers. Â They go into their communities and love on the people who are ill because of HIV/AIDS.
In the regions we visited, so many people were sick with HIV/AIDS. Â This horrific disease is affecting people of all ages, without prejudice, and leaves most of them to suffer and die alone. Â That is where the Caregivers come in. Â They visit the sick, talk to them, rub ointment on their open sores and most importantly, love them!
World Vision has recognized and helped mobilize the Caregivers. Â They are training and educating the Caregivers while providing them with the necessary supplies and tools to help those who are suffering. Â One key resource they help provide are Caregiver Kits.
Caregiver Kits are purchased through donations and assembled by volunteers here in the US. Â In fact, most are provided by individuals in community groups, churches and through corporate team-building programs. Â The Caregiver Kits contain latex gloves, petroleum jelly, soap, washcloths, anti-fungal cream, flashlights w/ batteries, pain relievers, water purification tablets and more…all things that the Caregivers use when caring for those affected by AIDS.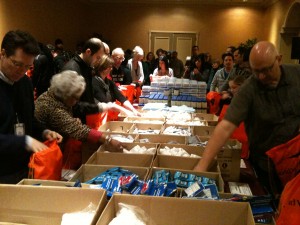 Recently, I had the opportunity to help assemble 300 Caregiver Kits with a group of World Vision Artists.  You pack 1 case and 4 refill kits…this gives a Caregiver the supplies they need for one year.  Before we closed up a case or refill kit we were able to add a handwritten note of encouragement to the Caregiver.  It was incredible!
The Caregivers are real-life Hero's. Â They selflessly serve people who are all but forgotten. Â Here are a couple links where you can find out more about Caregiver Kits from World Vision and how you can get involved:
Church & Community Groups
Corporate & Team-Building Groups
Have you heard of the Caregivers before?
Would your company or group be interested in helping donate & assemble Caregiver Kits?