My most visited blog post over the past year (by a long shot) was on building a new drum booth.  Call it a drum booth, drum shield, drum cage, whatever – the bottom line is that sometimes the acoustics of a room will create a need to control the sound of your drums.  I wanted to get a little more detailed with the specs, materials used and the things I learned so I've written an updated post here.
Start talking about building a drum booth and some people start talking about using an electric drum kit. Â Not me, no way…I believe electronic drums are of the devil. Â My feeling is that if you're gonna have drums in your band, then play with an acoustic kit.
There were some specific challenges I had in building this particular booth due to the room it was in. Â I'll try to leave out things that won't apply to everyone. Â There were also some political matters that I won't go into here….you know, sometimes there's the insane pastor's wife you have to deal with.
My goal was to build a booth that contained sound and visually kept the drummer as unobstructed as possible. Â I wanted it to look and feel feel like he was part of the band, not tucked away in a box. Â My first choice would be to go without a top/lid, but the acoustics of some rooms will amplify sound shooting up. Â You'll also need to consider reflected sound exiting the back of the booth. Â Something will need to absorb those reflections wether it be theater walls, curtains or sound panels. Â This will be determined by the room and space you're dealing with.
PLEXI-GLASS SPECS
Front Panel: Â 7.5′ Wide x 6′ High
Side Panels: Â 5.5″ Wide x 6′ High
Thickness: Â .220″
Cost: Apx. $650
These panels are heavy but two people can move them pretty easily. Â The main issue I had with the size was preventing a slight warping or bending as the panels stood. Â I could see wanting a thicker plexi in the hopes it would be a bit stiffer but my concern would be the sheer weight of it.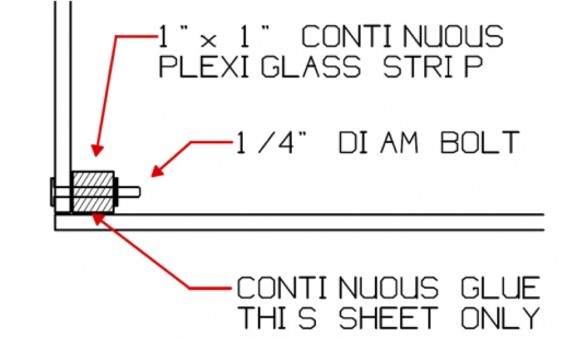 To attach the corners, we decided to use 1″ x 1″ x 6′ solid plexi strips. Â We glued them to one surface and then drilled holes and attached the other piece with a bolt (see schematic.) Â To prevent the slight bending/warping, we also glued one of these strips at the back end of each side piece for additional support. Â Worked great.
SOUND-PANEL SPECS
Owen's Corning 703 Rigid Fiber Insulation
Sheet Size: Â 2′ x 4′
Thickness: Â 2″
Weight: Â 3 lb
Cost: Â Apx. $1.60 sq/ft (depending on qty)
These sheets of insulation do a terrific job of absorbing sound. Â We used three aluminum rods and fashioned 'u' brackets on the ends to sit on the top edge of the plexi-glass and serve as cross-brace supports for the lid. Â The insulation sheets were wrapped with an acoustic burlap fabric. Â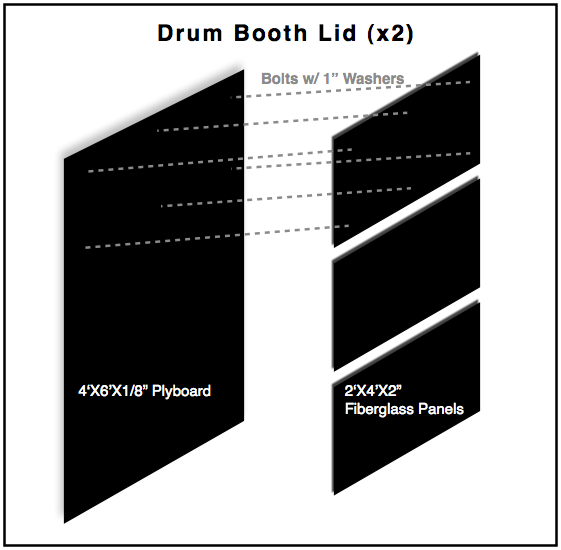 We used 6 sheets for the lid and 4 sheets to absorb early reflections at the back of the booth. Â To create connected panels of 3 lid sheets for easier handling, we took 4′ x 6′ pieces of 1/8″ plyboard, painted to match, and ran bolts through the sheets and plyboard. Â That gave us two panels for the lid, much more convenient than 6 smaller sheets.
The next matter is lighting. Â This should be handled depending on your current platform lighting scenario. Â One thing to consider, if you place floor lights near the drum booth, use LED lighting. Â Traditional PAR cans generate a great deal of heat and will melt and warp the plexi-glass.
The overall results were dramatic. We finally had control the drum volume in the room, were able to mic the drums and mix them into the house. Â The main mix improved as ton because we could get sonic clarity and separation with the band. Â Aesthetically I really like the solid plexi front of the booth rather than the vertical lines created by the 2′ panels from typical consumer drum shields. Â Like I said, my first choice would be to go without a lid, but unfortunately it's a necessity in some rooms.
I welcome any questions you might have. Â Feel free to post your thoughts or questions as comments below and I'll do my best to help and answer what I can.
Have you built a custom drum booth? Â Are you building one?
Do you have any questions about building a booth for your space?
Leave a comment below…
---
As they come in, I'm going to post pics sent to me from those of you who have built your own custom drum booths…