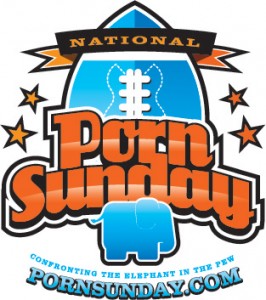 It was great to be back with my friends at Mountain Valley Church this weekend. I love that the team here really makes an effort to think beyond the typical Christian service format. It can be risky because we people types can be creatures of habit.
This Sunday Mountain Valley decided to partner with XXXChurch.com and participate in National Porn Sunday. The message portion of the service was a video from Craig Gross, founder of XXXChurch.com. I really appreciated the boldness to present an issue like pornography in a church setting. It's a very real problem for many people, something I struggled with for years as well, and important for the church not simply pretend isn't happening in both men's and women's lives.
XXXChurch.com incorporated several popular NFL players into the video presentation…a great tie-in with this being Super Bowl Sunday. These guys talked honestly about their struggles with porn and the realities of it causing problems in their lives. I'm happy to see issues like this being talked about openly rather than treated as too risky for good Christian folk.
Knowing the subject matter ahead of time made song selection an interesting task.  We had communion after the message which I loved because of the significance of God's love being bigger than our mistakes…His grace and forgiveness bigger than our unfaithfulness. It ended up feeling like a celebration of Jesus' sacrifice and His life filling us up today.
Here are the songs we did this weekend:
All At Once ::: The Fray
Stronger ::: Hillsong Live
Jesus Paid It All ::: Kristian Stanfill
Rise And Sing ::: Fee
Oh, btw……GO PACKERS!!!
Who are you rooting for in the Super Bowl today?