This week we got a Christmas card and letter from our sponsored child in Thailand. We've been sponsoring Pornjaratsri for about 6 years now and she's growing into such a beautiful young woman.
Many families in her rural community are very poor subsistence farmers or factory workers. Through sponsors like us, World Vision is helping provide the basic needs for Pornjaratsri and her family as well as helping the community with agricultural occupational promotions to help families increase their income and become self-reliant. Through this assistance they're farming the Hungary Mushroom, a product to sell at market and the leftover as healthy food for their family.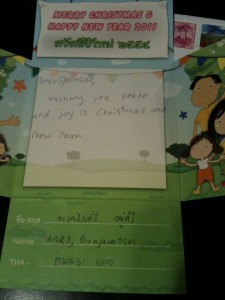 A couple years back, Pornjaratsri sent us a note that said, "Thank you for sponsoring me. Because of you I have tomorrow." I'll admit that I don't fully understand how much our sponsorship means to these kids and their families, but I'm reminded again that our small contribution is making a life-changing impact on people around the world…and I'm glad I can help and do something to love on people I will probably never meet.
I'll close this post with the salutation from the letter that came with Pornjaratsri's card…
"May God bless you and your family to be healthy
and prosperous forever."
DO YOU SPONSOR A CHILD? Â HAVE THEY SENT YOU A LETTE
LEAVE A COMMENT HERE…