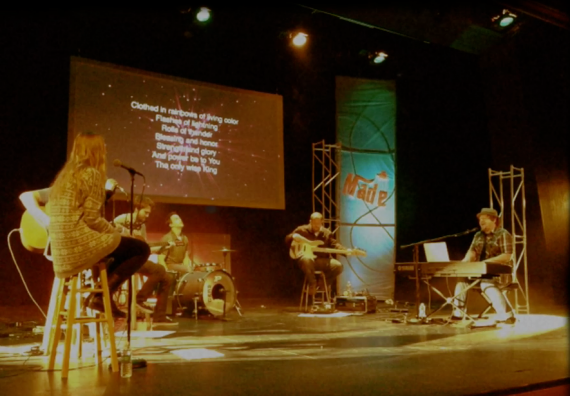 We decided to change things up a bit for Palm Sunday. Our musical configuration is typically a modern rock band. Electric, plugged-in and rockin'.
This week we went more with an 'unplugged' format. Still plugged-in but with a more acoustic-ish feel. I led from keys which was fun for me because I almost always lead from guitar.
I really need to say how fortunate I am to be surrounded by really great musicians and vocalists at this point in our journey as a start-up church. I've worked with hundreds of churches over the years and I can honestly say that the players we have at The Station Church are incredible. I'm already at the point where I can comfortably hand off lead to a couple other vocalists and know that they're going to knock it out of the park.
So…that's what I did this week. We had a 4 song set and I only led two of them vocally. It was very, very cool.
We had 65 people in our main Worship Experience and 15 in the Kids Station for a total of 80 people on campus. There are still new people coming every week so we don't necessarily have a 'group' of people attending regularly each week. I'm sure that will become more evident over time, but we're very excited to continually meet new people coming to worship with us.
The stat with eternal significance is what pumps me up…2 people made decisions to follow Christ! This will never get old…I love it!
Set List:
Salvation Is Here |Â Hillsong Chapel
Hosanna |Â Hillsong United
Awakening |Â Chris Tomlin
Revelation Song |Â Gateway Worship
Now we are planning and working toward our Easter gathering next week. About 25 of us went out on Saturday to hand out flyers about Easter and invite families to come to our free Easter Egg Hunt. If you're in the North San Diego County area next weekend, please join us…it's going to be a party!