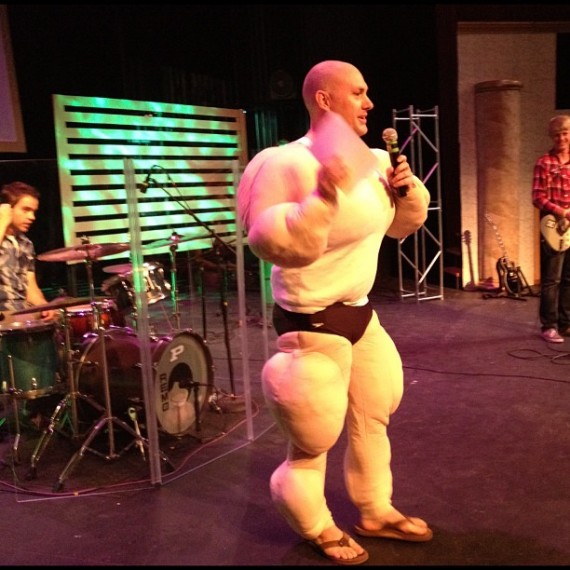 Wow…this picture definitely deserves an explanation…right?! As part of our 'All-In' series, this week the focus was loving God with all our strength. So we had fun with this and held a quick Strong-Man Competition in the middle of service. Hilarious. Dave dressed up a bit here…wearing a Speedo in church…and the band played Eye Of The Tiger while several guys demonstrated feats of strength. It was a blast!
There are many lessons I'm learning as the journey continues to help start a new church here in North San Diego County. This was our 11th Sunday meeting weekly. We find ourselves working hard to establish routine…and then working equally as hard to make sure routine does not dictate predictability and a lack of creativity in our worship expression.
I think a significant part of the challenge is that no one on our lead team is working full-time for The Station Church. The upside of this is that there is an incredible commitment being demonstrated by a group of volunteers who simply believe in this mission to reach people in our community with the love of God. Building a team of people with a shared vision always takes time…especially when everyone is busy making a living in the real world.
It's relatively simple to get lost in the details of scheduling volunteers, planning the weekly set-list and having to focus on getting loaded-in and set-up in the short time allotted each Sunday morning. This week I was glad to be reminded again WHY I'm doing this. When Josh invited people to make a decision to commit their lives to Christ and 2 people responded…I was affected by the joy of God's mercy, His salvation and the peace that is here for us when we lean into His love.
I'm also incredibly thankful for a growing community of talented creatives, musicians and singers. They prepare and show up each week with hearts ready to engage with God. It's just incredibly fun to see our weekly Worship Experience take shape.
Set List:
Our Great God | Casey Darnell
Our God |Â Chris Tomlin
Forever Reign |Â One Sonic Society
Go |Â Hillsong United
I've heard that San Diego County is one of the top 5 places in our country where people choose not to be part of a church. I don't advocate just attending church for the sake of attending church…it's bigger than that for me. It's part of my faith expression. There's community and relationship in a church family…sometimes it's great and sometimes it can be rough…but that's real life and that's the real world we all live in. It's also an opportunity for us to invite friends to a place where we can talk about God together. It's not perfect…but it can be a place where we're honest about how life and God intersect.
This is why I'm stoked to see people showing up and checking out The Station. We had 60 people in our main Worship Experience and 16 in Kids Station this week. We're becoming a growing community of people living life alongside of each other. Friendships and relationships are being formed and I can't help but celebrate the fact that 32 people have decided to follow Christ over the past 11 weeks. THAT IS AWESOME!!!
So, I'm curious…
Why do you go to church? Why don't you go to church? Be honest!
leave a comment below…