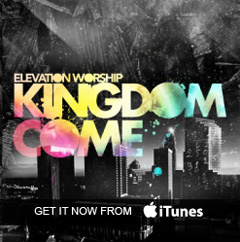 This is definitely one of my favorite songs to come out in the past year. Â It was written and recorded by the team at Elevation Worship. Â There have been some incredible things happening at Elevation Church in North Carolina, with almost 11,000 people coming to faith in Jesus through this church since it began only five years ago…amazing!
I find this song to be powerful with words from the Lord's Prayer in the verses and a cry for Jesus to make our hearts like His in the chorus. Â The bridge really grabs me and is a great rallying call for believers to joyfully sing to God. Â I think the reason I'm affected by this song is due to the strong lyrical and musical build throughout. Â It inspires hope inside of me.
Raise your hopeful voices
Make a joyful noise and
Sing unto the King of Glory
I've done this song live a couple times and have really enjoyed the sense of connectivity I feel as people of God sing this together. Â Give it a listen and let me know your thoughts by commenting below.
Download it on iTunes HERE:
How did the song Kingdom Come affect you?