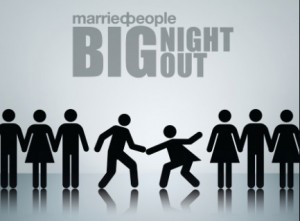 Who doesn't like some love songs on Valentines Day? Â Well, there is something pretty cool about getting paid to sing love songs to my wife any day of the year, but on February 14th it's quite the gig. When Mountian Valley Church called and asked if we would like to be a part of their Valentines BIG NIGHT OUT event, it was a no-brainer.
The event was geared to encourage couples in their marriages and relationships. An added bonus was that both my lovely wife, Pam and my son, Kieran got to play in the band. A couple other players from the church rounded out the band and they did a terrific job. We kind of got to be the 'house band' and play some fun romantic songs and background music to add to the vibe of the evening.
Song selection was fun because we chose from a wide stylistic range of tunes. We were targeting music that evoked a romantic feeling. This meant that the lyrical content didn't have to be uber-lovesongish, the song just needed to make you 'feel' uber-lovey. Â (I guess uber is my word of choice for this post.)
Here are the songs we chose for the evening:
Feels Like Tonight ::: Daughtry
Take Me There ::: Rascal Flatts
I've Got You Under My Skin ::: Katharine McPhee (Pam sang this one)
Home ::: Michael Bublé
Have I Told You Lately That I Love You ::: Rod Stewart
A highlight of the evening was a last-minute addition. Mike Hancock (Family Ministry Pastor at Mtn. Valley) and Kieran did a live rendition of the hit YouTube video "One Semester of Spanish, Spanish Love Song". Â They were pretty funny and it was definitely a crowd favorite for the night. Here is that little performance for your viewing pleasure:
I hope that made you smile. Â 🙂
What did you do for Valentines Day this year?