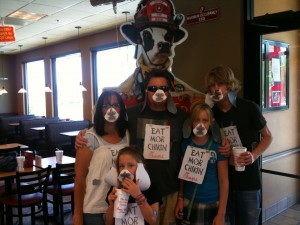 And we eat at Chick-fil-A for FREE on Cow Appreciation Day. Â We printed out Cow Costume Kit's from their website…cut them out…taped them on and WALAH….the family ate for free.
Great marketing idea if you're willing to endure a wee bit of shame and silliness. Â We had a few curious glances in our direction as we walked from the car into the store, but it was all completely worth it.
I love my family! Â We tend to be perfectly fine with PDG (Public Display of Goofiness.) Â We're also good with PDA, but that's a topic for another blog post.
What kind of craziness is your family practicing this Summer?